Salt Lake City Trip 2017
I just got back from our big annual Stampin' Up convention in Salt Lake City. I was so happy that one of my team members was able to join me this year. So Diane Kessluk was my roommate and I got to enjoy introducing her to some new demo friends. Plus its always fun to see someone enjoy their first time at such an awesome event.  We enjoyed a tour of Stampin' Up's home office in Riverton. It's such a lovely space with a huge rock feature in the center and a cool mini museum of the company's history. Enjoy some of my pictures. I also love that the employees have product samples everywhere.
These are pictures from the Legacy Room, the mini SU museum. They update the samples to contain current products.
              Touring the call center is always fun, the employees desks are covered in cards and project samples they have made and received.
We also got to see the ideas room, which is a fun meeting space and the warehouse where orders are processed. I did a short couple of videos I edited together so you can see where your stampin' up orders are processed.
As demonstrators at the convention we got to see and play with new product coming up in the occasions and sale-a-bration catalogs. We also got to network with other demonstrators from around the world who attended. It is so much fun to be a demo and get to attend one of these events. Now there are plenty of upcoming items that I can't show you yet, but I will say I'm very excited about them!! I know you will love this upcoming catalog and I look forward to sharing it with you. Here are a few other pictures from our weekend adventures at the convention.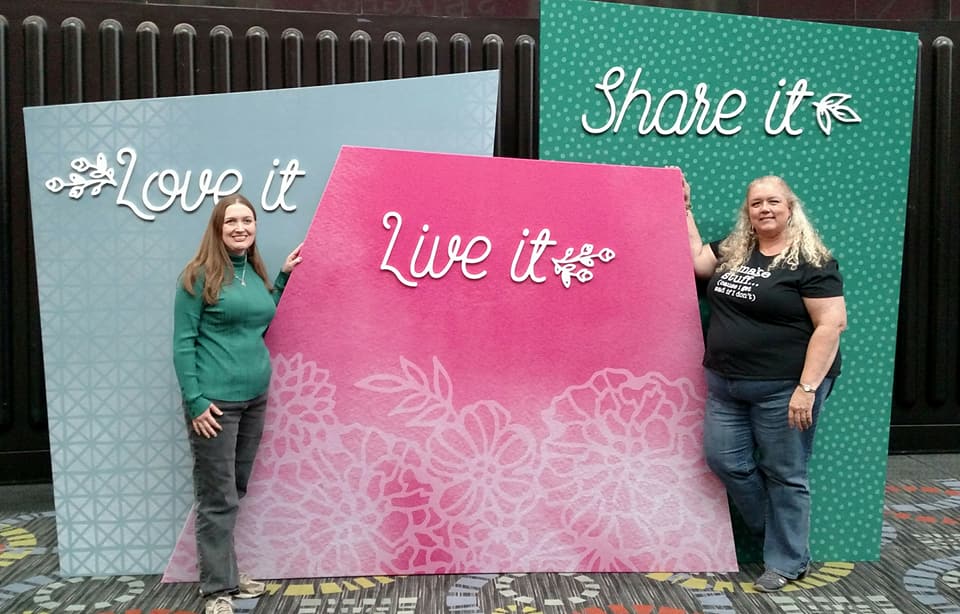 Don't want to miss the next one that will be in Orlando, Fl in Nov of 2018 now's a great time to join my team so you can be part of the fun next year.