Pokémon!!
I am beyond excited to share my latest project with you. Starting off with my latest musical YouTube video!! Check it out below.
So I'm trying something new by doing an e-bay auction of all the cards from the video. I'm including both tutorials in the auction as well. You can place your bid here, but hurry auction is only going to be up for 10 days.
Want to attend my local card Pokémon card making class on either August 25 or 26? Click here to go to my Facebook event and RSVP. There is limited seating so don't delay. Cost is only $5 and we are making these two cute cards.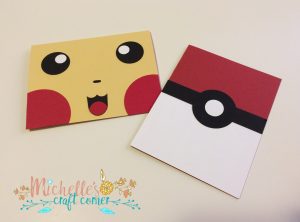 If you loved my cards and want to get your hands on my new PDF tutorials on how to make them check out my new tutorials tab up above for the info. Then you too can make cute cards like these.
Which one is your favorite? I would love to see pictures of any cards or project I may inspire from this post. Well I'm off to go catch Pokémon so I'll catch you in the next post.