Happy New Years!!
I hope everyone had a wonderful Christmas and a very happy new years last night. I know we had a very eventful December. For those who may have missed my Facebook post this is what I shared after Christmas.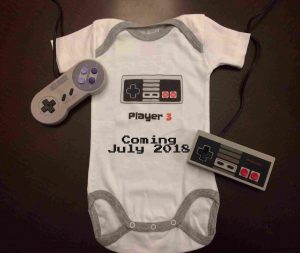 We had a very exciting Christmas as we got to announce to our parents that we are expecting our first child in July. They of coarse are very excited for us. For those who may have been disappointed with my Stampin' Star Wars Month only having two projects so far this is the reason why. I have been dealing with very bad morning sickness, nausea, and fatigue that sadly has sidelined my crafting. I am hoping that as I hit my second trimester I will feel a lot better and be able to get ahead on my SU projects. Since my health has been unpredictable recently I have yet to officially schedule events for January. I want to be sure I am up to hosting an event first.
With the upcoming arrival of the baby I know my SU business will be changing quite a bit in 2018. My current plan is to still do events in the house as long as I am up to hosting them. In general though I intend to be increasing my online events, Facebook lives, YouTube, etc as I decrease events in the house.  Once I feel steadily better I plan to prep as many of these in advance as I can. Please just be patient with me during this transition. Thank you everyone for your support.